A hot bite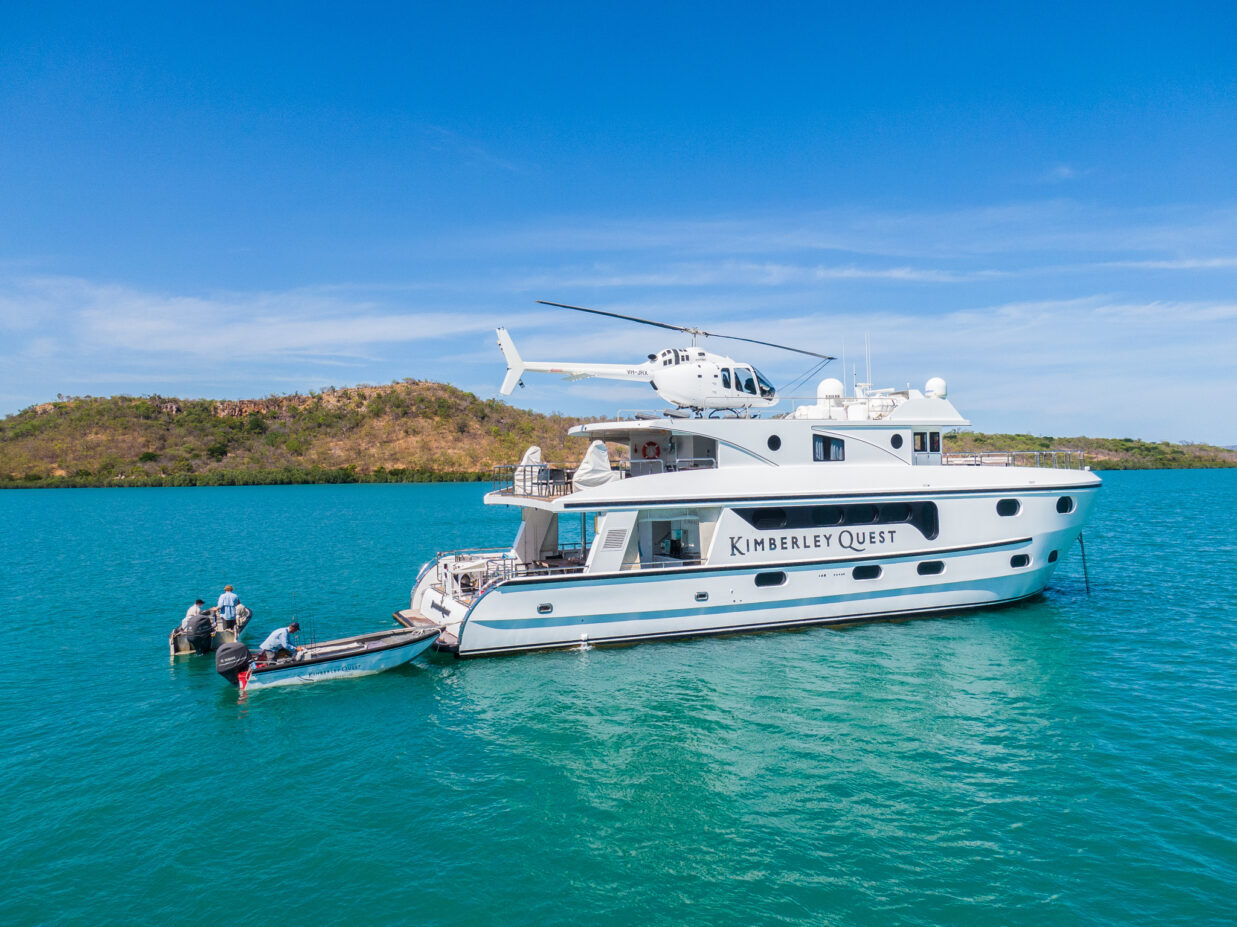 The magical metre barramundi continues to elude me, but I edged closer to that milestone and enjoyed plenty of other highlights on a spectacular Kimberley cruise last month.
I was extremely fortunate to receive a last-minute invite to join a bunch of keen anglers on a week-long expedition on the purpose-built Kimberley Quest out of Broome.
At only a few days' notice, I had to get myself to Broome, to then fly to Cygnet Bay to board the Kimberley Quest for a week chasing barra through the stunning Buccaneer Archipelago.
It had been a few years since I'd done a trip like this and my previous experience of Kimberley cruises was of very tough fishing for the most part.
I was joined by a mate, Neil Pinner, and he was most surprised when our first stop after being collected from the hotel was to pick up former West Coast Eagle Peter Wilson for the trip, the pair of them old mates.
It was a good start and we were soon joined by the rest of Peter's group of eight guys, with Neil and I stepping in for some of their friends who couldn't get over from Victoria.
What followed was simply an epic fishing adventure, all done in first-class comfort aboard Kimberley Quest.
Fishing at spots like the Glenelg River, Secure Bay, Montgomery Reef and even Horizontal Falls we enjoyed some memorable action that put my previous Kimberley trips to shame.
The undoubted highlight had to be a rock bar at the mouth of an inlet that absolutely fired for barra for about 90 minutes.
In a raging current just after first light our group of 10 anglers pulled around a dozen fish, mainly trolling, and would have hooked at least 15 more.
It was during this hot bite that I got a 93cm fish, my best yet, by casting an RMG Scorpion from the bow of our tender while we trolled.
The barra smashed the lure almost as soon as I landed it next to a rock wall and put up a spectacular fight, with plenty of anxiety when it was near the boat and pinned by just one hook on the treble.
One angler, Jason Antunovich, got a 1.01m fish during the session, and every fish boated was over 80cm.
Another highlight was a stellar late-afternoon session on broad-barred spanish mackerel in the channel at Montgomery Reef.
The broadbars were hunting whitebait and the baitfish were spraying into the air as the macks charged through them repeatedly.
We caught several on Halco Slidog stickbaits, with spectacular surface strikes, and then I was surprised by a giant herring just under a metre as the sun dipped at sunset and the action slowed.
Fishing on Kimberley Quest was an amazing experience, with all of our guides keen anglers with a good understanding of the areas we explored.
We travelled mainly at night, so no fishing time was lost, and generally did three sessions on the tenders according to the best tides each day – usually one before breakfast, one late morning and another mid-afternoon.
With a chopper sitting on top of the Kimberley Quest, some of the group took the opportunity to go on inland heli-fishing adventures.
Returning to the boat after each fishing outing, we were always greeted with a cold drink and wet towel to cool down, before stepping into the air-conditioned comfort.
All rooms had en suites and fridges, with a double and single bed in mine.
We ate fresh fish most evenings, as well as mud crabs we caught, and even got to enjoy an outdoors spa on the bow while we cruised through the majestic Kimberley.
The fishing was fantastic and Kimberley treats like the Horizontal Falls, Montgomery Reef and Ruby Falls just added to the quality of what was an unforgettable experience that I couldn't recommend highly enough.
Check out the Kimberley Quest website for information on their 2022 fishing expeditions.
Caption: The Kimberley Quest anchored near the Glenelg River.
Sunday Times Column, Published Wednesday 12 January 2022
Scott Coghlan, Western Angler