Bite size: Short Kimberley cruises taking off
Often, the best holidays are the ones that leave you wanting more. They're the getaways that seemingly stretch time to make four days feel like a fortnight, fitting in all the highlights while teasing you with everything else you'd still like to see. Invariably, as you head to the departure gate you're already plotting your return trip.
That's exactly how I'm feeling after winding up a new, short but blissful cruise of the Kimberley coast. 
Usually, you have to set aside seven to 14 days to see this stunningly remote part of Australia, and part with some serious dosh. But a trend is emerging in Kimberley cruise travel for bite-sized journeys of four days or less, requiring less of a time commitment and fewer dollars. 
Cleverly, vessels are departing closer to the sights, allowing them to still tick off major attractions such as the Horizontal Falls, Buccaneer Archipelago and Montgomery Reef. 
SORRY CABLE BEACH, THIS SPOT IS BETTER 
THE BEST WAY TO SEE THE KIMBERLEY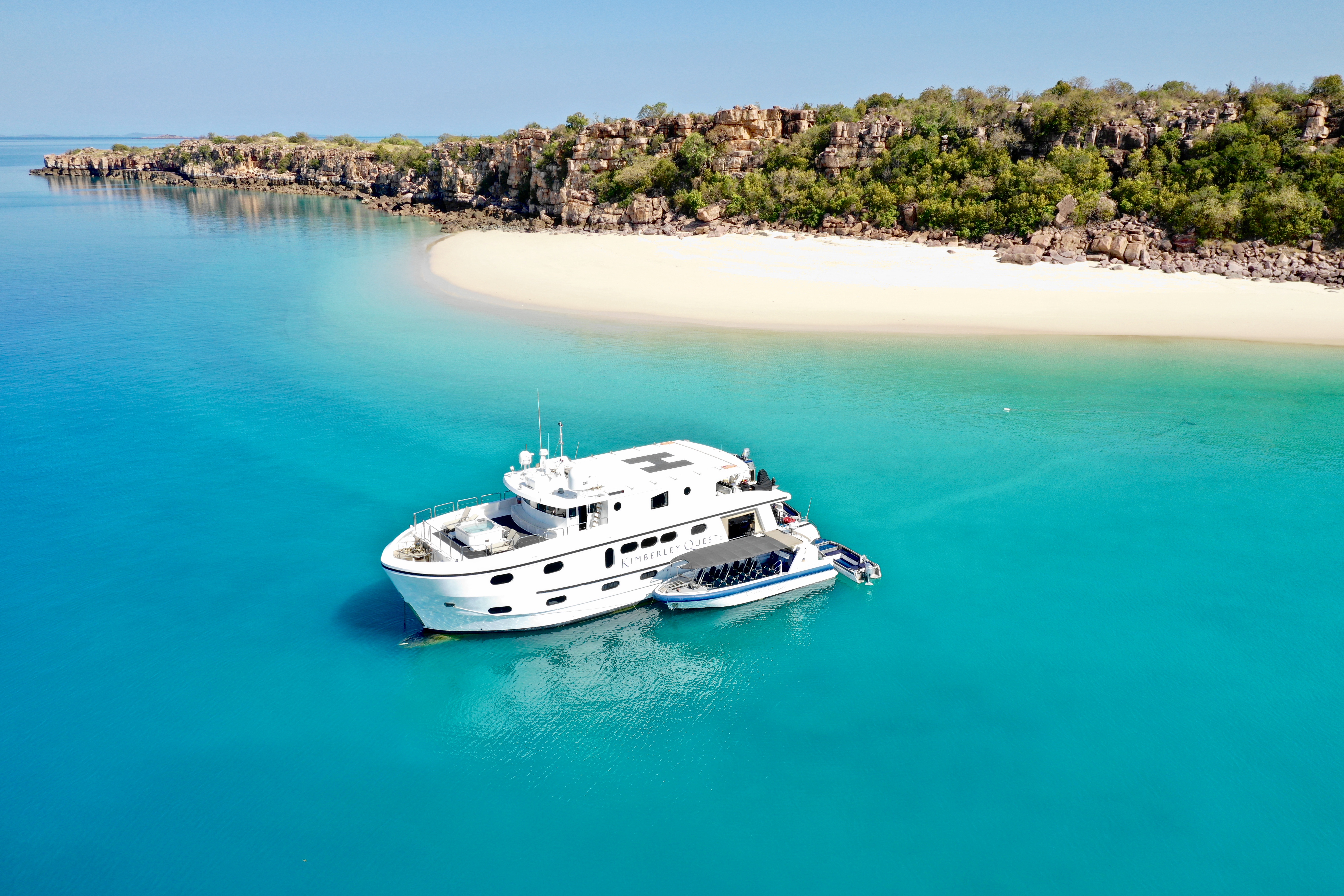 Luxury cruise operator Kimberley Quest ran its inaugural Taste of the Kimberley expedition earlier this month and has already noticed a shift in those booking subsequent shorties. 
Traditionally, Kimberley cruises are the realm of retirees who've paid off the mortgage, but owner and skipper Jeff Ralston says a younger age group is targeting the compact cruises. 
"Couples are interested," he says. "If you've got kids it's hard to get away for any amount of time, so four days is easier. Same with looking after the dog, cat and house; longer is harder." 
Having done a long, and a longer-haul cruise of the region, I'm curious to see if a Kimberley quickie satisfies. Astonishingly, the snapshot more than delivers, leaving me, and fellow passengers, with that bittersweet pleasure of desperately wanting to stay on-board. 
DAY ONE 
The journey begins with a scenic flight out of Broome over paprika-stained country that's sliced by a long, straight road and waterways that probe into the land like tree roots. 
We meet the cruise boat at Cygnet Bay Pearl Farm on the Dampier Peninsula, avoiding a sizeable chunk of steaming from the usual ports of Broome or Wyndham. 
The family-owned farm – which is hosting the crew filming Tim Winton's Dirt Music – treats us to espresso coffee beside an infinity pool, and an Aborigine-guided property tour that's as informative as it is entertaining. Dinghies pick us up from turquoise shallows, and soon a gleaming white catamaran like the ones you see celebrities on in the French Riviera becomes our new temporary home. 
I could definitely get used to my deck-level cabin, with comfy double bed, airconditioner, ensuite bathroom and daily laundry service. But I'm drawn out by fat, sambal prawns, rare tuna rolled in sesame seeds and herb-rich salads. One of the great surprises of Kimberley cruising is that the food is as fresh, diverse and sophisticated as a capital city restaurant. 
Within the first hour, shoes are off, clothes too, in some instances (replaced by bathers, of course), and refreshments are in hands. 
Then, it's a quick fishing trip off rusty-red Cockatoo Island. Old mining infrastructure attracts large schools of fish and hauling in massive queenfish is almost too easy: they all but jump into the dinghy. As the sun sets, our excited yelling, wooing and clapping travels across the sea. Lunch the next day? Chilli mango ceviche.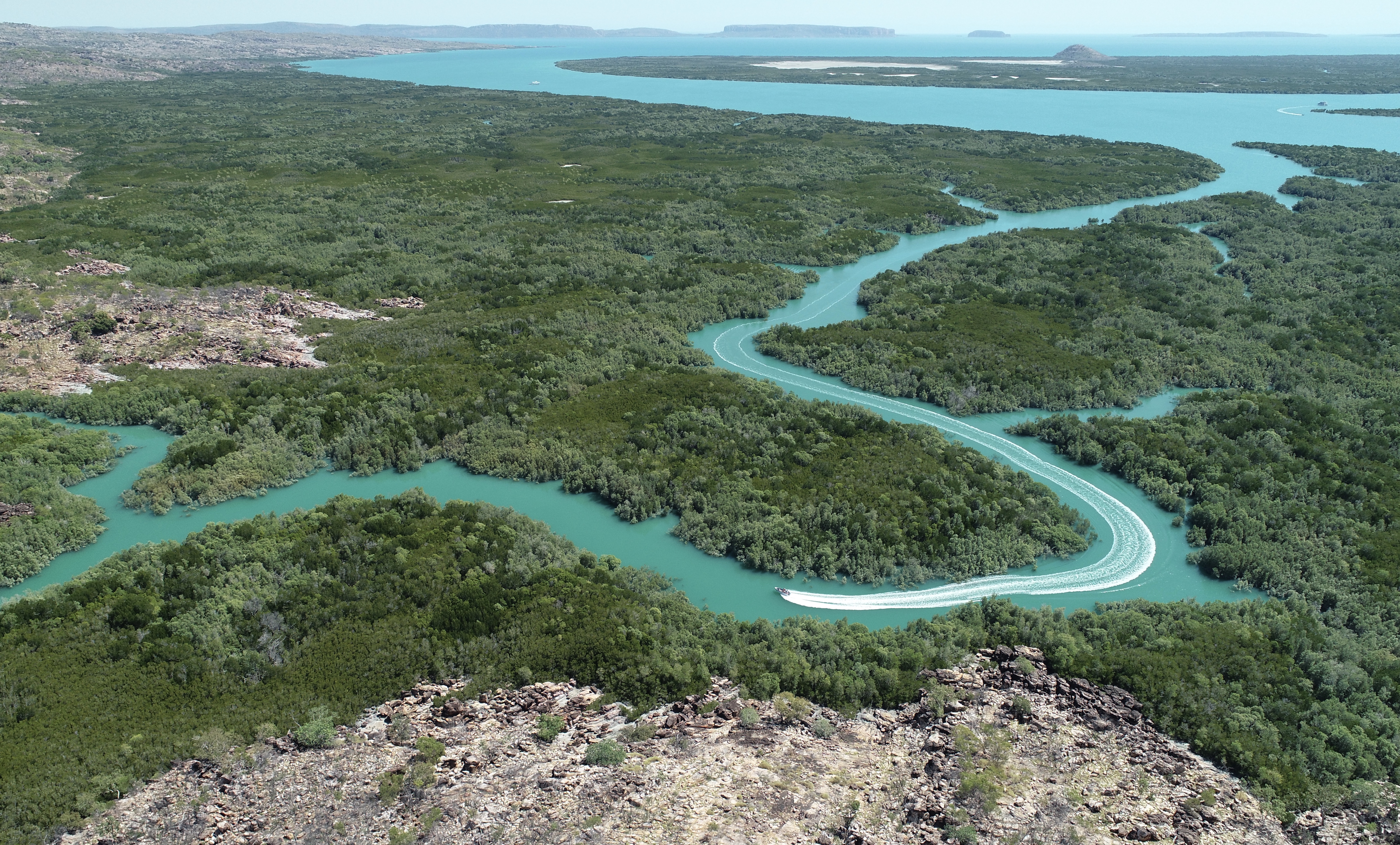 DAY TWO 
Whales in the morning, turtles in the afternoon, staggeringly aged rock formations throughout the day and not a sign of human touch. Being in the Kimberley reveals precisely why we humans crave far-flung destinations: nature is the only backdrop. 
Not the rumble of car engines, the glint of skyscrapers, the bloated inbox, the fluorescent office lights. It all fades into a memory of a weird parallel universe that I don't miss one bit. 
It's telling that not one guest has taken the optional Wi-Fi service ($100 extra). Mobile phones are used only for photos; down time is filled with communal chatter, magazine leafing, horizon gazing and spa paddling. 
Today, we get an education on the Kimberley's giant tidal movements. Home to the biggest tropical tides and the fastest currents in the world, the waterline can rise and fall by as much as 13m, meaning masses of water are constantly feeding in and out. 
We head in on the Quest's jet boat to a pile of rubble-like boulders messily stacked 20m high. Egrets have nested at its pinnacles, and sand pipers who've migrated from Siberia strut on the lower levels. Around the rocks, turbid water churns as the tide shifts.
"It's like seeing water come down hill," says on-board naturalist guide Tim Willing. Only everything is flat. The boat's engines rise in pitch as it pushes against the current. 
We zoom to a flatter, stone island and Tim points out a line of football-sized rocks: it evokes Peru's Nazca Lines, laid out to mark the form of a serpent, according to local Aboriginal people. Little is known about who put them there and when. 
By late afternoon we reach the cruise's big-ticket attraction: Montgomery Reef. Described as a coral-coated mesa, it measures 25km one way and 13km the other, covering an immense area of about 400sq km. 
As the tide flees, water pours off it, cascading down its terraced edges in streams of white water. The coral is hard to see; instead brown seaweed covers the surface, eaten down short by turtles. It seems they're all swimming in the channel around our dinghy now – in one hour, we spot at least 50 as they pop up their heads. 
For a moment, our guide cuts the outboard motor and we drift in tune with the tidal current, listening to the frothing water and watching the reef floor pass below. 
To feel and hear that power highlights the tide's intoxicating force. "I've never seen anything like that before," says David, a well-travelled Sydneysider. 
DAY THREE 
Another day, another natural phenomenon: this time it's speeding through Horizontal Falls. Gaps in parallel sandstone ranges, eroded over time, have allowed millions of tonnes of water to push through each day, changing direction in tidal shifts. 
Whirlpools circle and the surface bubbles as though in a gentle boil, the water moving with a power we undoubtedly underestimate. 
The jet boat bumps us through several times, like a joy ride at a theme park only without all the plastic and primary colours. "Again, again!" we shout. But the folded rock formations of Talbot Bay beckon. Scrunched like corrugated iron, the geology here is incredibly complex. 
Folding is estimated to have happened between 540 million and 1000 million years ago, tilting layers of sedimentary strata by as much as 85 degrees. The ochre landscape seems crafted by the hands of giants.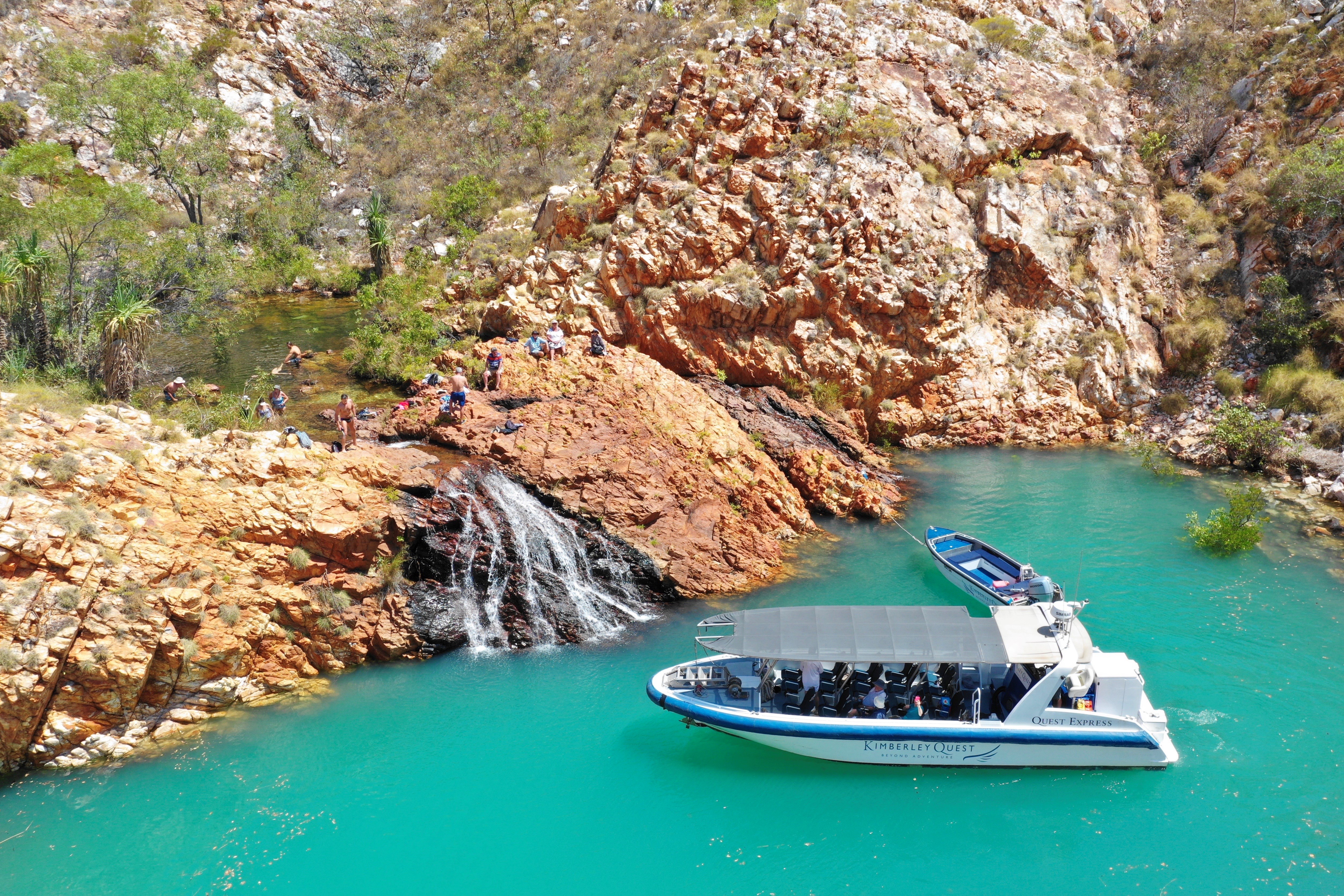 DAY FOUR 
Our incredible journey is over all too soon. Somehow we've also packed gorge swimming, rock scrambling, river exploring, mud crabbing, croc spotting and waterfall frolicking into the itinerary, which is a moving feast as it responds to the tides. 
In hindsight, it's busy, but moves at a pace that feels relaxed. In 2019, the Kimberley Questcelebrates 25 years of working these waters, and as emails are swapped, it seems many guests may return for the quarter centenary. 
"Our biggest issue is to get people off," jokes Jeff, as he waves us goodbye. 
SHORTER STOPS: Do it in a day 
If you're not quite ready to swipe the credit card on a coastal cruise, a new daytrip into the Kimberley is the next best thing. 
Go Horizontal launched its island-specked adventure in September, combining a scenic flight over the deep ochre landscape of the Dampier Peninsula, a zoom around the turquoise Buccaneer Archipelago, and a jet boat journey through the Horizontal Falls. 
They're the only operator to land on Cockatoo Island, home to Alan Bond's failed 1980s holiday resort. Weathered villas and a weedy tennis court reveal a vision that may be resuscitated, with the resort lease recently purchased by a consortium who want to give it another try. 
Boats launch from the isle's iron ore scattered beach and tour two resources mines before cruising past mangroves where crocodiles lurk. Then, it's time for a pulse-quickening ride through the gushing falls, where an estimated 2.5 million litres of water flow through gaps in rocky ranges every second. 
The return flight shows you the spectacle from the air. g
FOUR NIGHTS OF HEAVEN 
Another short option is to explore the Buccaneer Archipelago's islands sand bays from a houseboat, with a 12m high-speed expedition vessel attached to its side and a chopper that flies in for excursions. 
Family-owned and run Horizontal Falls Seaplane Adventures runs the four-night, Ultimate Kimberley Cruise Adventure, for a maximum of 12 guests. A seaplane whisks you from Broome to the contorted rock formations of Talbot Bay, where the company's floating base resides, close to the frothing Horizontal Falls. 
Landing on water is quite a thrill, and the highs continue as you're whipped through the rapid-like falls then shown the majestic wilderness. On board, there's a qualified chef and each room enjoys huge windows. 
The adventure business was set up in its remote location 14 years ago, after Rhys Thomas aqua-towed a plane hangar all the way from Broome, using it as its first base, and converted a crop dusting plane by putting floats on it. 
His son Adrian, who's been working there since he was 16, says the short houseboat cruises give travellers another option. "For a lot of people, the cruises go for too long and there's a lot of travel time, and there can be rough water," he says. "It's always flat water here, the islands create such placid conditions."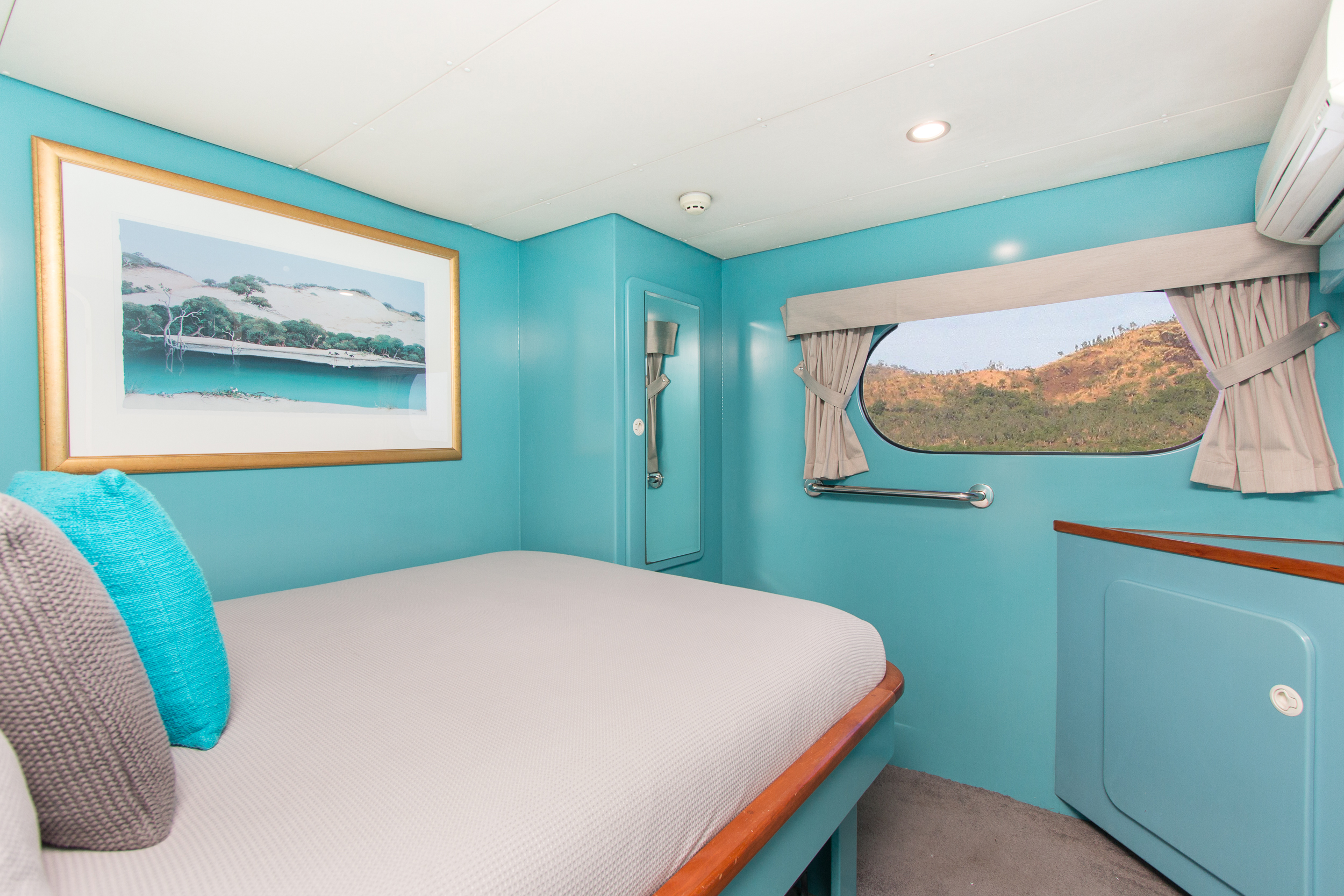 ESCAPE ROUTE 
Book a four day, Taste of the Kimberley cruise with Kimberley Quest here: kimberleyquest.com.au.
You will need to arrive in Broome the night before departure. Stay at the Cable Beach Club and hit its Sunset Bar to watch the sky turn pink as camel trains return from the sand. The prawn and prosciutto pizza there is excellent. 
The author Fleur Bainger travelled as a guest of Kimberley Quest, Go Horizontal and Australia's North West